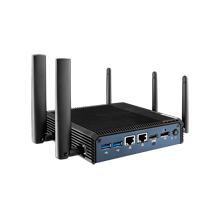 Advantech, leader in the field of Industrial Internet Of Things (IIoT), offers a new product, the UTX-3117, as a plug and play IoT gateway.
A Plug and Play gateway
The UTX-3117 IoT Gateway family aims to simplify deployments and integration with IoT applications to help communities develop smart cities and energy management.
Completely integrated into the movement of Industry 4.0, this gateway integrates the latest innovations from Advantech in order to offer a simple and effective solution.
Thanks to its multi-cloud and multi-software compatibility, this gateway integrates perfectly with the AWS (Amazon Web Services), Microsoft Azure and WISE-PaaS / RMM environments.
Adapted specifications
Equipped with Intel Apollo Lake E3900 series or N series processor and supporting 2 COM ports, 1 HDMI port, 1 display port, 2 USB 3.0 ports and TPM compatible cryptographic chip.
Its small footprint (128 (L) x 152 (W) x 37 mm (H)) as well as its extension ports make it compatible with many needs (1 M.2 extension for wifi module for example, 1 mini PCIe half size and 1 min PCIe full size). These extensions allow you for example to integrate a Wifi module, a Zigbee or mSATA module and a 3G LTE module and 5 antennas.
This equipment is compatible with temperatures ranging from -20 ° C to 60 ° C (with the E3900 series).
Finally, this range of IoT gateway is compatible with the following operating systems:
Windows 10
Windows 10 IoT Enterprise
Wind River Pulsar Linux
A range of IoT gateway
The UTX-3117 IoT Gateway Series offers 4 distinct products to meet all of your connectivity needs:
Version with an N4200
Version with an Intel N3550
Version with N4200 and antenna kit
N3550 version with the antenna kit
It may interest you