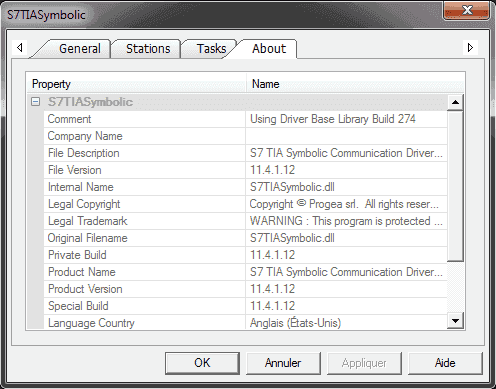 The S7 TIA symbolic driver has been specially designed to access SIMATIC S7-1200 and S7-1500 controllers with symbolic addressing and access to optimized data blocks.
This driver needs the ACCON-AGLink software library (from DELTA LOGIC Automatisierungstechnik GmbH) to communicate with the server equipment.
The file for this library is called "AGLink40.DLL". From Movicon version "11.4.1.12", the driver requires version "5.3.1.0" or higher of the DELTA LOGIC library.
The first step in using this driver is to import the information on the variables of a "TIA_Portal" project or directly from the PLC.
For more details on this operation, refer to the section Importing variables, see the different articles below:
The requirements
PLCs that can communicate
Siemens S7-1200 and Siemens S7-1500 PLCs
Supported protocol
S7-TCP/IP TIA.
Driver limits
A maximum of 256 stations can be defined.
Hardware and software used to test the driver
The driver has been tested with ACCON-AGLink library (AGLink40.DLL) version 5.3.1.0 and a Siemens S7 1200 PLC, CPU 1212C version FW 4.1 supplied with an Ethernet port.
Driver installation
A basic communication test has been implemented for this driver to verify if the cables have been properly connected and if the primary communication parameter has been set correctly. For details, see the test / comm cable user manual.
For this pilot, the communication test was performed by reading the MLFB number of the PLC.
Communication cable
The cable should be a standard Ethernet cable, used in any LAN network.
Two different versions can be chosen, depending on the type of connection.
A "Straight Through" cable, for a Hub connection, or a "Crossover" cable, for a peer-to-peer connection.
It may interest you