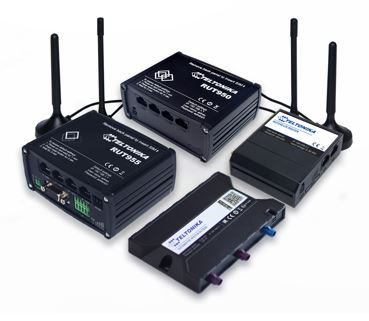 An industrial 4G router is very often essential in the implementation of an IoT (Internet of things) application to upload field data to a Cloud. It can also serve as a backup connection when more traditional Internet accesses fail. It is also very often used to connect establishments which cannot easily access the terrestrial Internet network.
For these purposes, Integral system offers you professional 4G WiFi Teltonika routers which offer many advantages:
Industrial 4G routers 4 times smaller than the competition.
Industrial 4G routers 3 times lighter than others.
4 products to cover all 4G applications.
Ultra competitive 4G routers in price and performance.
Tested and approved by Securitas, Zebra technologies, Ingenico …
Tested and approved in air traffic and drones.
Operation in all circumstances from -40 ° C to + 75 ° C
Based on a Linux OpenWRT platform.
Routers which are all compatible with Hotspot WiFi operation.
A delivery time for volume orders of 30 to 45 days.
We will find this 4G network equipment in many applications:
The wind industry
The solar industry
Water treatment
Energy transport
The oil and gas industry
The road, maritime, rail, automobile transport industry
Agriculture
Public security
Construction
Smart cars
Interactive terminals, digital signage
Automatic stores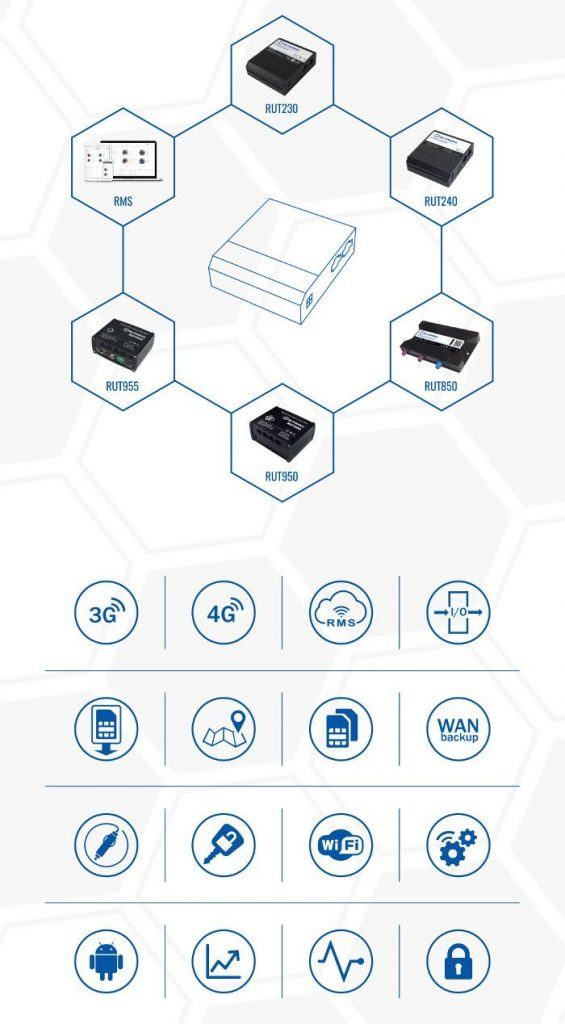 Industrial 4G router: the comparison
Below is the technological comparison between 4G WIFI routers for industry and professional applications presented in our article :
| | | | | |
| --- | --- | --- | --- | --- |
| 4G WiFi Router | | | | |
| | RUT240 | RUT850 | RUT950 | RUT955 |
| 4G (LTE) | CAT 4 up to 150 Mbps | up to 150 Mbps | CAT 4 up to 150 Mbps | CAT 4 up to 150 Mbps |
| 3G | up to 42 Mbps | up to 42 Mbps | up to 42 Mbps | up to 42 Mbps |
| 2G | up to 236.8 kbps | – | up to 236.8 kbps | up to 236.8 kbps |
| GNSS/GPS | – | ✓ | – | ✓ |
| WiFi | up to 150 Mbps | up to 150 Mbps | up to 300 Mbps | up to 300 Mbps |
| GPRS | ✓ | ✓ | ✓ | ✓ |
| Ethernet | 2 ports | – | 4 ports | 4 ports |
| SMS | ✓ | ✓ | ✓ | ✓ |
For a complete comparison (technology, hardware and firmware),
RUT240: Industrial 4G / 3G / 2G WiFi RJ45 router
The RUT240 industrial 4G router is compact, powerful, inexpensive (from 150 EURO) and designed for professional applications. It incorporates very high performance equipment for cellular communications in critical environments.
For perfect network management, it is equipped with an externally accessible SIM card holder and an LED bar to visualize the strength of the 4G signal at a glance.
The antenna connectors allow the use of antennas suitable for all environments.
Support for 4G at 150 Mb / s.
Integrated WiFi connectivity for maintenance or retrieval of email attachments. WiFi Hotspot function.
1 digital input and 1 configurable digital output for monitoring external events with SMS or email transmission.
Easily accessible SIM slot.
2 ethernet ports usable for an internet connection (ADSL) and broadcasting on a wired network.
Manage your fleet of routers remotely: access, monitor and control your routers on a single platform. Free test.
DIN rail mounting. Antennas: 2 X SMA for 4G and 1 X RP-SMA for WiFi
9 – 30Vdc power supply on 4 pin industrial connector – consumption less than 5W
Operation from -40 ° C to 75 ° C – Humidity from 10% to 90% non-condensing.
Accessories: DIN rail, antennas and various power supplies.
RUT850: Compact and ultra-flat 4G wireless + GPS router for vehicles.

1- Led A/M
2- SIM card
3- Reset button
4- Led WiFi
5- Active mobile network
6- Mobile signal level
1- Power connector
2- GPS antenna connector
3- 4G antenna connectors
The RUT850 is a particularly compact and efficient industrial 4G router in the field of ultra mobility. It is widely used in the field of transportation whether it is public or private carriers. It can be found for example in trucks, intelligent vehicles, buses, trains, etc.
Here are its main characteristics:
4G connection up to 150 Mb / s
WiFi connection IEEE802.11 b / g / n. No bottleneck between 4G network and WiFi
Integrated GNSS functionality (GPS and GLONASS) enables location tracking and logging using the Teltonika Automatic Vehicle Locator (TAVL) server. Notification possible by SMS / E-mail when the device leaves the predefined geographical area. Geolocation can also be received by SMS on demand.
The power supply is compatible with vehicles such as cars, buses, trucks with a 12 or 24Vdc battery. A digital "ignition" input controls the standby state of the router.
An Android application allows you to manage your internet connection and manage your router.
Operation from -40 ° C to 75 ° C – Humidity from 10% to 90% non-condensing.
290,000 Hours MTBF – IP30
Accessories: adhesive antennas and various power supplies.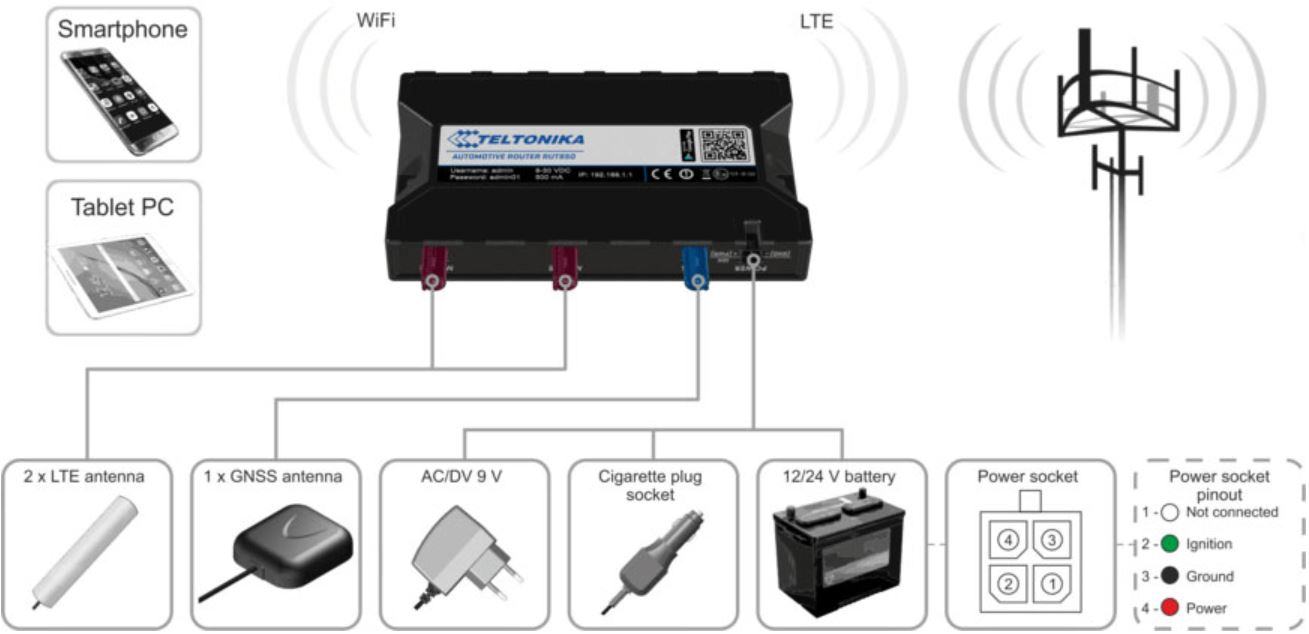 RUT950: a rugged and secure 4G router

Front of RUT950 with 4 ethernet connectors
Rear panel with antenna connectors
Dual SIM card behind this side
4G connection up to 150 Mb / s
2 SIM cards with automatic switching in case of weak signal, loss of network, roaming, etc.
WiFi connection IEEE802.11 b / g / n and Access Point. Up to 100 simultaneous users. Hotspot.
4 10/100 Mb / s ethernet ports, one of which can be used in a wide area network (WAN) for back-up.
Blacklist for blocking malicious sites and whitelist to specify authorized sites.
VPN with multiple clients and servers.
2 SMA connector for 4G antennas and 2 RP-SMA connectors for WiFi antennas.
Power supply 9 to 30Vdc on 4 pins connector. 7W maximum.
Operation from -40 ° C to 75 ° C – Humidity from 10% to 90% non-condensing.
270,000 Hours MTBF – IP30
Getting started guide in French.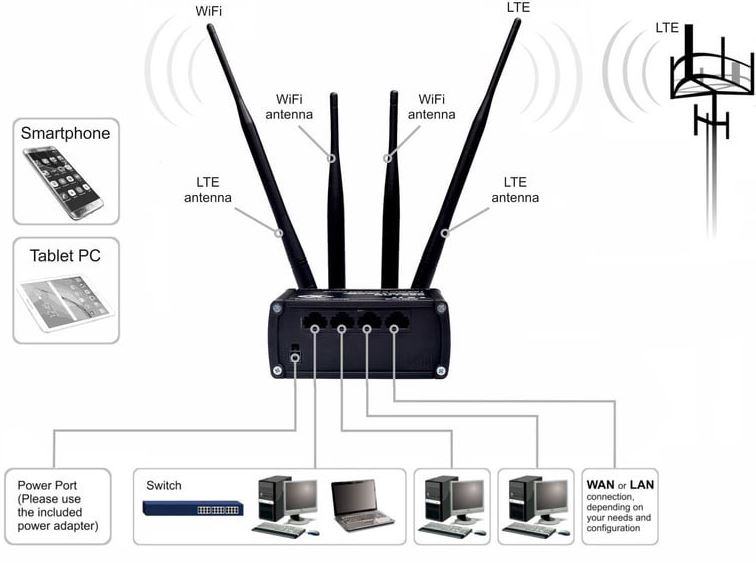 RUT955: 4G router with GPS, digital I / O and RS232 / 485
By allowing the connection of industrial inputs / outputs and Modbus peripherals, the RUT 966 is a complete industrial and professional 4G router at a very attractive price.
4G / 3G / 2G connection up to 150 Mb / s with 2 SIM cards
IEEE802.11 b / g / n WiFi connection and Access Point (AP). Up to 100 simultaneous users. Hotspot.
4 RJ45 10 / 100Mb / s ports
Integrated GNSS (GPS and GLONASS)
RS232 port on DB9, RS485 2 or 4 wires. Modbus gateway.
2 digital inputs (0-3V – 0-30V isolated)
1 analog input 0 – 24Vdc
1 open collector output 30V / 250 mA
1 40V 4A relay output.
1 USB 2.0 port for hard drive, SSD or modem.
1 SD Card of 32 Gb max.
DIN rail mounting
Operation from -40 ° C to 75 ° C – Humidity from 10% to 90% non-condensing.
230,000 Hours MTBF – IP30
The packaging
Take for example the contents of the box of an industrial 4G router RUT955, reference RUT955-H7V3C0.
The first letter H refers to the region covered by the frequencies, namely in our case:
Europe
Middle East
Africa
Korea
Thailand
India
The contents of the RUT955-H7V3C0 delivery box are as follows:
RUT955 router
Food Europe
2 4G magnetic antennas with 3m of cable and SMA male connector
2 WiFi magnetic antennas with 1.5m cable and RP-SMA male connector
A screw connector for the RS485 link
1.5m ethernet cable
A quick start guide.
RUT955 H7V1H0 version contains DIN rail mount, RUT955 H7V3B0 contains GNSS (GPS) antenna, RUT955 H7V020 contains both DIN rail mount and GPS antenna.
Different types of power supplies and screw-in antennas are available as options.
Find these rugged 4G routers on the Integral System website
The integral-system.fr site offers industrial 4G routers of the Teltonika brand. These 5 network routers integrate many technologies that will meet your needs and your professional or industrial application:
RUT230: 2G and 3G router
RUT240: 4G category 4 router, WiFi IEEE 802.11b / g / n, WAN, LAN, digital I / O
RUT850: 4G router with GPS
RUT950: 4G router with dual-SIM, 3 ethernet and 1 WAN
RUT955: 4G router with GPS, 3 LAN, 1 WAN, 2 serial ports
It may interest you